Exterior Painters and decorators in London
No Job Is too Big or Too Small for Us. We'll Get It Done.
When it comes to painting the exterior of your house it might look like an easy job… 
But when I first painted my own house it was easy only for the first couple of hours, when I painted my garden fence and then the wall from the ground level…
Wooden sash window frames were a bit more difficult and time consuming. Then I started to paint the higher level from the ladder and realised that some help would be appreciated.
Ok, that was more than 20 years ago and it still challenging when it comes to climbing ladders and doing the job in professional manner. And since then, LGC has grown and now we employ the best painters and decorators in London that have all required qualifications and are always under close supervision by our senior staff. Work quality and long lasting results is our number one priority.
As a professional exterior painters in London, we have had the opportunity to work on a variety of different projects. From small residential homes to large commercial buildings, we have experience with it all. No matter the size or scope of the project, we take pride in our work and always aim to provide the best possible results for all clients.
One of the most challenging aspects of this job is working in inclement weather. Painting during a heatwave can be extremely difficult, as the heat can make the paint dry too quickly. On the other hand, painting in cold or wet weather can be equally challenging, as the paint may not adhere properly to the surface. Despite these challenges, we always do our best to complete the job on time and to the best of our abilities.
Working as an exterior painters in London is a great experience overall. Being outdoors and making houses beautiful again is the best we can ask for. 
Although we use scaffolding a lot, but where the ladders are safe and more convenient we work both ways. Job safety and quality are the two most important factors, this is why we take it very seriously and spend extra time on preparation for long lasting results. Our painters and decorators are trained at working at heights and only work in the safe manner. 
LGC Decorators have the knowledge and experience to complete any size external painting and decorating project to the very high standard which will last for many years.
We only use the materials that we feel are right for certain projects and don't just go with the flow. Everything is moving forward at the speed of light, so is the market of paints and fillers that can be adapted for many different projects.
We are South London based painting and decorating company with the proven record of satisfactory customer recommendations operating throughout London.
We are keen to advise on which outdoor materials you have to buy or we can provide our wide range materials which we selected only from the best suppliers. So don't hesitate to contact us for professional advice. We come and visit you absolutely free and provide no obligation quotes.
LGC Decorators Ltd – specialists in exterior painting in London – powerful painting and decorating solution with 24 months warranty as standard.
Exterior painters and decorators – London.
We are the specialists in all types of residential and commercial painting and decorating or property maintenance services in London.
Just had LGC complete a bathroom and three bedrooms. Really happy with all the work and the quality of finish throughout. Also, very friendly team that were always a pleasure to have around!
This company is always brilliant, have used them on a number of occasions to decorate bathroom and kitchen refurbs for my company. Clean and considerate and the quality of work is always spot on!
The LGC team completed our external refurbishment project on our Edwardian terraced home in West London beautifully. We found the pricing to be fair and the quality of the work to be high. We will definitely use this team again.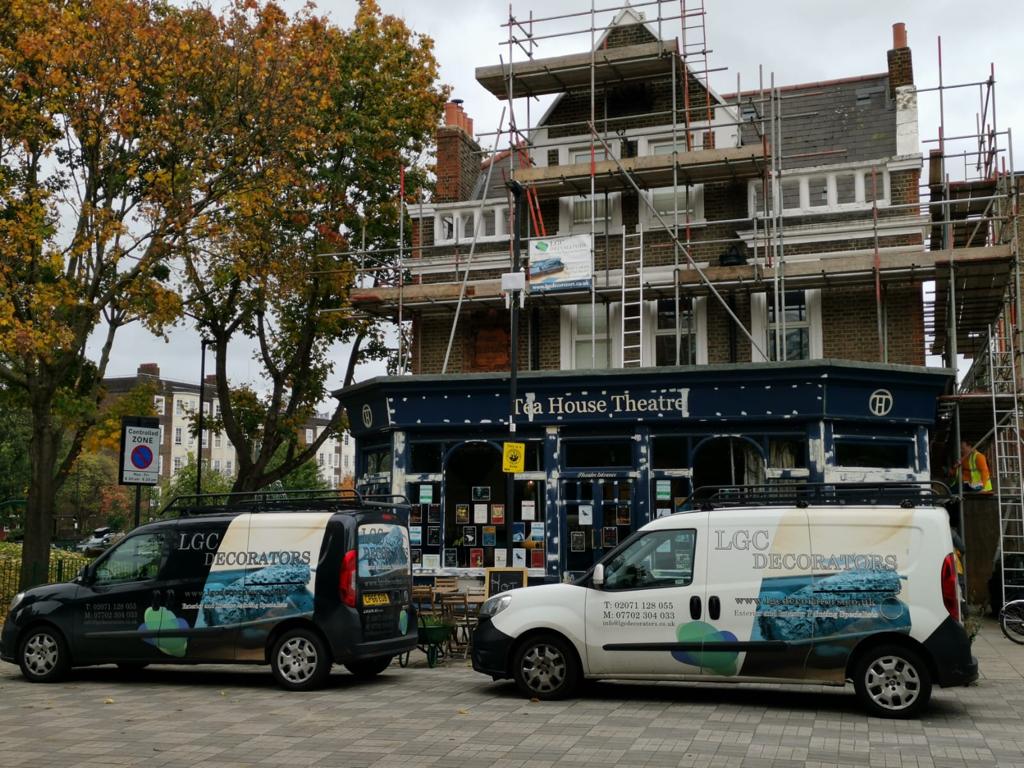 We have been painting and fixing  houses in London and South East for many years. 
LGC team will always be respectful to your properties. That's the promise.
We worked in residential properties, shops, restaurants, schools, offices, churches. 
LGC Decorators will handle any project. All jobs considered in London and the South East England.